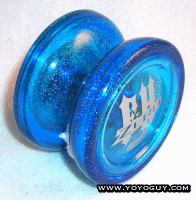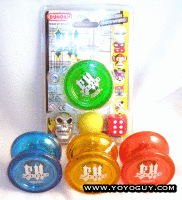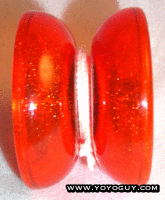 Freehand Zero Sparkle SE by Duncan
A translucent Freehand zero with sparkling glitter in it.

The Freehand Zero is here, and with it comes the rebirth of the classic Freehand 1. This new version of the freehand is a ball bearing concave yo-yo that comes with three counterweights (a figure, a ball and a die). The figure is one of six designs (a metallic skull, a monkey head, the new Duncan guy head, the flying panda head and a die with eye glasses and an attitude). This yo-yo is of course designed for freehand play.

Freehand Zero Sparkle
DU47GT
Price:$19.99
---

Shape: Concave
Material: Plastic
Diameter: 60mm
Thickness: 36mm
Weight: 66gm

Play style: String Trick, Freehand
Axle or Bearing type: Bearing A
Special Features: Take Apart
Friction Sticker: 1
Skill Level: 3
---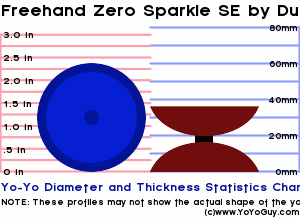 ---
Swap out this yo-yo for another comparison