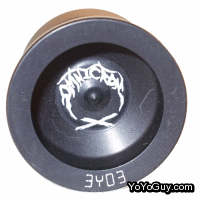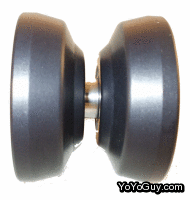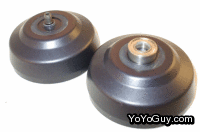 Omnicron X by Landon Balk
From Landon's personal site:

If you liked the Bass Line, you'll love this. Much better rim weight on this guy. The hub nipple is now a functional spike, and the IRG lip is insanely easy to hook for thumb grinds. Also changed is the response- the groove is a standard .555 thick (red) hatpad sized groove, so if you don't prefer the stock RTV response, it can easily be changed down the road. Here's the specs:
Diameter: 52.00 mm
Width: 42.85 mm
Weight: 67.1 grams
Bearing: C (.5x.25x.1875)"
Response: RTV/Flow will accept thick .555 Gen-Yo hatpads, and other similar sized pads.
Price:$90.00
---

Material: Metal
Diameter: 52mm
Thickness: 42mm
Weight: 67gm

Play style: String Trick
Axle or Bearing type: Bearing C
Special Features: Take Apart
Skill Level: 5
---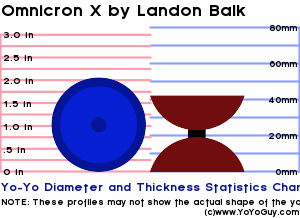 ---
Swap out this yo-yo for another comparison