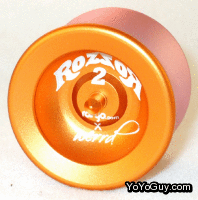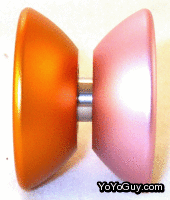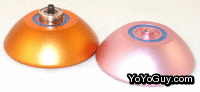 Rozzor 2 by Werrd
The Rozzor 2 is the improved version of the original Rozzor created with the help of Oke Rosgana. This is the last run of the Rozzor line. It uses a large size C bearing and silicone pad response. Werrd has added some warnings you may want to know about.

Caution! Contains small parts - not for children. Do not play or throw near people, objects, animals, or my car! If I catch you - you're going to bed without supper.

Double Caution! Depending on what I was eating when I packed this yo-yo, it may contain traces of nuts ( but on closer inspection it will contain many elements including AI, 316SS, POM, and many other abbreviations)

Triple A Caution! As confusing as it sounds "Triple A" (3A) style of play requires two yo-yos, not three. Please purchase another yo-yo if you are 3A yo-yo challenged.

Quad Caution! 1. Werrd yo-yos will make yo a better player and competition ready - it says it on the box!
2. Werrd yo-yos will help you lose weight (from your wallet...)
3. Werrd yo-yos can make you frustrated and leave blisters on your hands. Something your mother warned you about.
4. Werrd knows yo-yos are serious business - no need to remind us - WE KNOW.

QUINtuple Caution! Sterling is an amazing yo-yoist. Look for him, starring with Chuck Norris and Jackie Chan, at a video store near you!

Sextuple Caution! Playing or even just carrying a Werrd yo-yo can make you appear sexier. Owning one is kind of like walking around with a massive circular pheromone in your hand or jean pocket. Often the opposite sex (as well as the same sex for that matter) may find you absolutely irresistible. BUYER BEWARE!
List:$90.00
Our Price:$80.00
---

Shape: Concave
Material: Metal
Diameter: 52mm
Thickness: 38mm
Weight: 67gm

Play style: String Trick
Axle or Bearing type: Bearing C
Special Features: Take Apart
Friction Sticker: 2
Skill Level: 5
---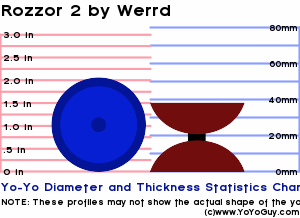 ---
Swap out this yo-yo for another comparison