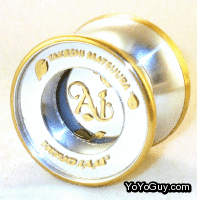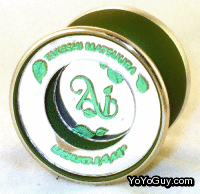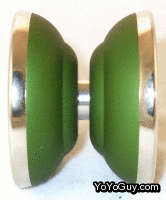 Ai by YoYoJam
The long awaited signature series for two time 5A World Champion in 2008 and 2010, and 2010 3A and 5A Japanese National Champion Takeshi Matsuura is the Ai. This is the yo-yo Takeshi used to win both of his 2010 Japan National Champion titles in 3A and the highly competitive 5A. It has been over a year in the making -- the result will not disappoint even the most critical player. Get ready to be impressed and step into the future with the new Ai yo-yo
from YoYoJam.

Team YoYoJam Japan's Takeshi Matsuura is by far one of the most naturally skilled yo-yo players out there winning the World Yo-Yo Contest Counterweight Division at only 11 years old! YoYoJam knew his yo-yo had to stand out and perform and with the Ai they have accomplished that and more!

The first thing you will notice on the Ai is the amazing new futuristic shape. The body is cut in such a unique way as to allow for maximum string gap and width while still maximizing on stability and smoothness. Custom designed by Takeshi himself and after over a year of testing different prototypes, you will not find another yo-yo out there like this! He has designed it with Counterweight, Single A, and Triple A in mind and it handles them all incredibly well.

The Ai features a thin aluminum body with brass rims to center the weight exactly on the edge maximizing stability and spin. The gap handles an incredible amount of string without hesitation and this yo-yo reacts to your every command helping to hit those tough tricks on stage.

This first release of the AI comes with two caps installed for a one of a kind look and feel. The AI is yo-yo technology for the future. Don't be surprised to find this in the hands of some of the best players in the world! We know Takeshi plans to take his second world title using nothing else but the YoYoJam Ai!
Price:$122.40
---

Shape: Concave
Material: Metal
Diameter: 54mm
Thickness: 41mm
Weight: 70gm

Play style: String Trick, Freehand
Axle or Bearing type: Bearing C
Special Features: Take Apart
O-Ring Size: III
Skill Level: 5
---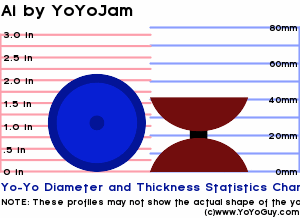 ---
Swap out this yo-yo for another comparison