Hitman Professional by YoYoJam
When the Hitman was first released in 2003 it changed EVERYTHING. Grinds and unresponsive play became mainstream, and ask anyone who was around that time – the Hitman was the yo-yo of choice. Ready to bring it to the next level, World Champion Johnnie DelValle (JD) did a complete redesign taking everything you love about the original Hitman and adding in the new Solid Spin axle system!

Everything that made the classic Hitman the professional's choice returns. The shape is designed to fit perfectly in the hand for a most comfortable feel. The weight rings are wide and maximize weight across the entire rim for an incredibly smooth ride. And yes - this yo-yo is still built to GRIND!

New design elements include a slightly smaller diameter for the more intricate style of yo-yoing today and YoYoJam's patent pending Solid Spin axle system has been added for a more stabile and perfectly balanced spinning experience. Weight has been tweaked and carbon fiber caps bring the yo-yo to a new level of sophistication receiving JD's approval as the very best YoYoJam has to offer.

Hitman PRO is built for the new level of yo-yo professional today!
Price:$49.30
---

Shape: Concave
Material: Combined (Mixed Materials)
Diameter: 51mm
Thickness: 41mm
Weight: 66gm

Play style: String Trick
Axle or Bearing type: Bearing C
Special Features: Take Apart
Friction Sticker: 2
Skill Level: 4
---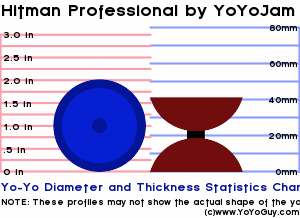 ---
Swap out this yo-yo for another comparison