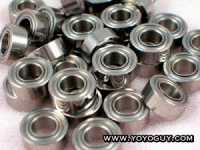 Mercury Bearing Size A
Due to requests, we have had the Mercury Bearing made in a size A to fit Duncan Yo-Yos such as the FHZ.
The Mercury Bearing was developed by Infinite Illusions own Chuck Robinson. This bearing is a dry bearing with floating shields that is smoother and longer spinning than other bearings. These bearings come from the factory dry, so they are cleaner than you can achieve using home grown cleaning techniques. Do not clean or lube this bearing. The residues will actually slow this bearing down.

Mercury Bearing Size A
YPBAM
Price:$10.00 to $40.00