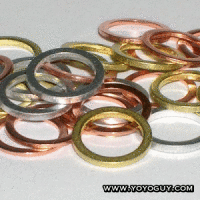 Metal Merc Shims for YoYoJam Yo-Yos (Set of 6)
This is a set of 6 metal shims for any YoYoJam yo-yo that uses a bearing C. You will get 2 each of three different thicknesses (.02, .03, .04).
To keep you from going blind trying to figure out the thickness, we have made these in three different colored metals (Copper=.02", Brass=.03", Aluminum=.04"). Combine spacers on different sides of the yo-yo, or on the same side to accurately vary the width of your yo-yo, all for a fraction of what other metal spacers cost.


These will work on any standard "C" Bearing , except the standard Merc C bearing (On the Fat Lip Merc these will work fine).
Ok, why Merc Shims ... I could not come up with a better name. Kyo wanted me to call them little roundish metal things that make your yoyo way way better. or lrmttmyywwb for short. But that would be silly. He calso came up with magical shims with pixie dust? But since we don't actually have any pixies to get dust from... we felt that this was not accurate advertising... In short, if you have a better name, let us know. If not we'll call them Merc shims.

Metal Merc Shims (Set of 6)
YPS01
Price:$4.00