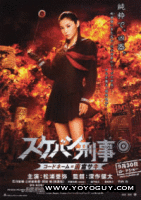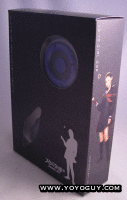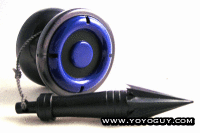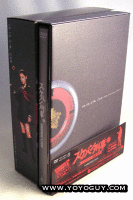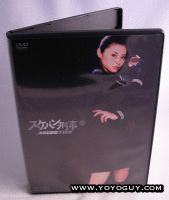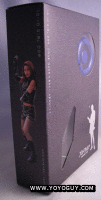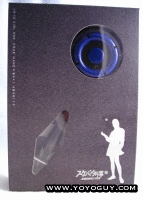 Yo-Yo Girl Cop DVD set wth Free Hand Zero .
Please read carefully, this DVD might not play in your DVD player.

This is the latest retelling of a Japanese tradition. The tradition of Sukaban Deka. Since the 80's shows about an undercover schoolgirl cop armed with a special yo-yo as a weapon have been printed, animated and acted in Japan. This latest telling is set with the daughter of the original Sukaban from the 80's TV show being taken against her will to Japan to pick up where her mother left off. (Her mother is played by the actress who stared in the roll in the 80's).

In the cool sleeve of this limited edition boxed DVD set comes a two DVD set, one is the film, the other is filled with interviews, clips and trailers. It also comes with the coolest FHZ we've ever seen. It has special caps to make it look like the yo-yo used as a weapon in the film, and to keep up to date, it has a spike counterweight (the spike is cast of rubber, for all the truly theatrical spikings you can do)

The set also comes with a booklet which we think is about the film. The reason we say we think is that this is all in Japanese.

Yup, no subtitles, no sissy overdubbing. This is the real thing. heck it's even a region 2 DVD so you might not be able to play it in your Region 1 USA DVD player. You might just have to download some software so you can watch it on your computer.

We've watched it. It's all in Japanese, but the plot is follow-able. There is a little (and I do mean little) english in the film as a small part of it takes place in NYC. The english by the way is subtitled in Japanese for your convenience.

We were only able to track down a handful of these, and when they are gone, they are really gone.

Note: This will not play in many USA DVD players. It is a region 2 DVD. It should play on most computers with free software you can download from the net or just with the standard software that the computer comes with. We are sorry, we can not take this product back once it is opened.
Yo-Yo Girl Cop DVD with FHZ
YV39
Price:$89.99
---