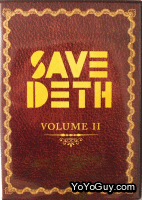 Save Deth Volume 2
In a world of tepid coffee, florescent lighting, and mind-numbing traffic, we often have to dig for inspiration, for authenticity- and yet, sometimes it blooms into immediate view.

With a flourishing roster and stunning visual aesthetics, Volume II by Save Deth goes well beyond choppy internet videos, cookie cutter freestyles, and bed sheet backgrounds. Backed by a soundtrack that will have you humming all day, Dave Poyzer and Seth Peterson travel from New York to San Francisco to bring you the most progressive footage that modern yo-yoing has to offer. This latest entry into the Save Deth library is bound to drop jaws and cultivate creativity.

Featuring: Paul Han, Markmont., Jensen Kimmitt, Justing Weber, Joey Fleshman, Jon Rob and more...


Price:$22.00