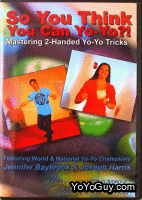 So You Think You Can Yo-Yo? Mastering 2-Handed Yo-Yo Tricks
Jennifer, a performer, instructor and yo-yo master has spent her life demonstrating and teaching yo-yo tricks around the world. As a US National Champion and World 2A Champion, she has performed in over 14 countries and has appeared on various TV shows including David Letterman, Good Morning America, and the Today Show.

Joseph Harris, aka YoYo Joe, brings two-handed yo-yo trick performing to a whole new level! As a US National 2A Champion, Joseph has traveled the world and appeared on various TV shows including America's Got Talent and Wanna Bet.

DVD Includes: Detailed descriptions and demonstrations from multiple angles of basic to world level advanced two-handed tricks sych as two-handed loops, milk the cow, tangler, arm wraps, and more!

With a total of 26 tricks this DVD will help you learn the tricks necessary to become the next two-handed yo-yo champion.
So You Think You Can Yo-Yo? DVD
YV51
Price:$19.99